🕑 Reading Time:
4
minutes
The holidays are coming – fast. Before you know it, you'll be inundated with Christmas carols, Hanukkah festivities, Boxing Day celebrations, and New Year's Eve. Although these notable dates are filled with happy memories and family get-togethers – they also make for high levels of stress – especially if you're the host.
Join us as we divulge our best tips for surviving the holidays with cannabis.
Avoid Confrontations With Discrete Methods
All of us have "that" relative that's fully against anything related to cannabis. Although the majority of states in the USA have implemented laws regarding the recreational or medicinal use of marijuana – there are still those that are staunchly against it.
When our families and friends gather for the holidays, these close-quarter confrontations can lead to embarrassing and frustrating moments. The holidays are meant for enjoyment and happiness; therefore, it's best to use preventative measures to stave off any kind of issue regarding your cannabis use.
The best preventative method to avoid nosy relatives is to use discrete methods, such as vaporizers, edibles, topicals, or oils. Each of these cannabis products doesn't produce the aroma found from burned cannabis flowers. 
Additionally, cannabis-based edibles, tinctures, oils, or topicals can be quickly used without anyone noticing. Although you may be a fan of smoking cannabis flowers, utilizing more discrete methods to consume marijuana during the holidays will save you a great deal of stress.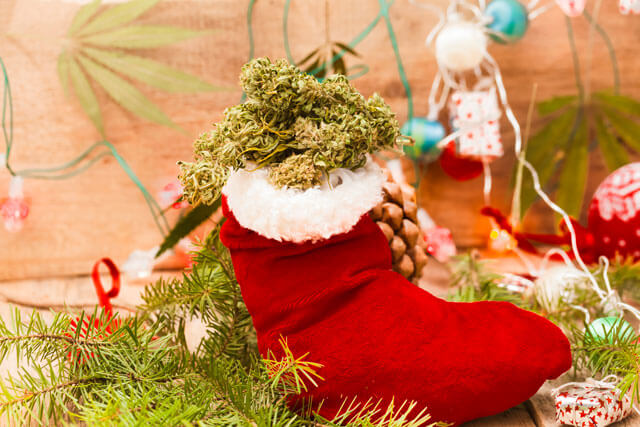 Treat Yourself Before The Holidays
Before each big holiday, such as Christmas, Hanukkah, or New Year's Eve, it's essential that you prepare your mind and body for excitement to come. 
Treat yourself by using CBD-infused bath bombs, decadent THC-infused chocolates, or muscle relaxing CBD salves before each notable event. When you treat your mind and body to relaxing levels of THC or CBD, your overall stress levels will be low. 
Break the tension by treating yourself so you can enjoy the holidays to their fullest.
Start Slow
The holidays are filled with excitement, which leads many of us to overindulge before the party truly gets started. The last thing you want is to experience a "green out" before the countdown to New Year's. 
Start your New Year's on the right foot by managing your cannabis intake throughout the course of the night.
Cannabis and Air Travel
It's likely that many of you will be traveling for the holidays. Regardless if you're going to a cannabis-friendly state, it's absolutely illegal to bring any cannabis products greater than 0.3% THC on the plane.
Don't ruin your holidays by accidentally bringing that top-shelf 1/8th you just purchased. Instead, grab a popular CBD product that doesn't test above 0.3% THC. By doing so, you won't need to worry and break out into a nervous sweat as you see that German Shepard headed your way at the airport terminal.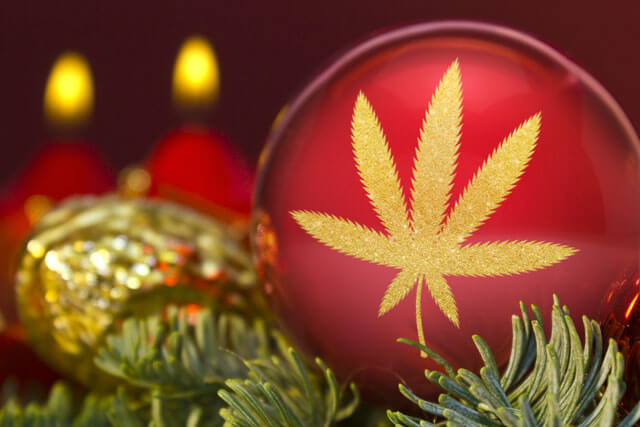 Stay Alert Without The High
The holidays require a lot of effort,  especially for hosts. When you can't afford the narcotic effects of THC, it's time to break out the CBD. CBD is a non-psychoactive cannabinoid that produces many of the effects that we've all come to know and love with cannabis. 
Relaxation, heightened awareness, pain relief, reduced anxiety, and more, are typical results from consuming CBD products. Not only is CBD heavily studied in regards to these benefits, but it is also widely available in many grocery stores.
Instead of becoming too stoned, switch over to CBD during the rush of the holidays so you can be the best host you can be.
Pick The Right Cannabis Strains For The Occasion
It's essential that you pick the right cannabis strain for the occasion. Unless you're set on it, you'll likely want an energy-inducing hybrid for New Year's Eve, so you don't knock out before midnight.
Other holidays, such as Christmas or Hanukkah, will pair better with Indica-leaning hybrids that leave you relaxed and stress-free. This is why it's important to choose cannabis strains according to the mood of the party or holiday. 
Do you want to feel festive and ready to party all night long? Choose a Sativa-dominant hybrid. Ready to kick back with a glass full of eggnog and watch Netflix with the family? Choose an Indica-dominant hybrid. 
Make Sure To Buy Your Stash Before The Holiday Rush
The holidays are already stressful, so it's essential that you purchase your cannabis products before the holiday rush. Cannabis dispensaries will have mind-boggling lines the closer we get to Christmas and New Year's, as well as closures on these specific days. 
Save yourself the hassle by purchasing your cannabis well before the holidays. Not only will you save boatloads of time, but you'll also get to cherry-pick the best cannabis products before they sell out.
It's a win-win game plan because it's one less thing to worry about as the pressure begins to mount. By buying early, you can now worry about other pressing matters, such as outfit combinations, recipes, and presents for friends and family.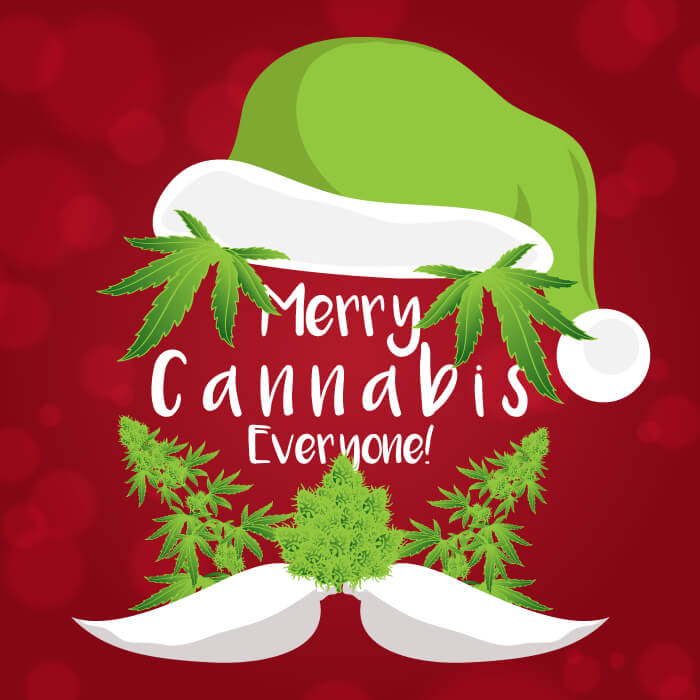 Enjoy The Holidays – For Better or Worse
Ultimately, the holidays always bring happiness, frustration, stress, excitement, and more. It's essential that you take a hit, step back, and realize that these holidays are some of the best memories we ever have. 
Regardless if you have to debate an uncle about cannabis legality or if you finally get to share a joint with your parents – the holidays are for enjoying to the last drop. THC, CBD, and their associated terpenes are ideal tools to enhance your holidays – as well as keeping you in one piece into the New Year.